WDCC Meting This Thursday, November 16th
The next meeting of the Waltham Democratic City Committee will be held this Thursday, November 16, 2017
at 7:00PM in the Auditorium at Government Center, 119 School Street (Corner of School & Lexington Streets), Waltham.
Our special guest speaker will be Democratic Candidate for Lieutenant Governor Quentin Palfrey. He previously served as the
Executive Director of the Abdul Latif Jameel Poverty Action Lab (J-PAL) North America at the Massachusetts Institute of Technology,
and is the Co-Director of the Global Access in Action project at the Berkman Klein Center for Internet & Society at Harvard University.
During President Obama's first term, Palfrey worked as Senior Advisor for Jobs & Competitiveness in the White House Office of
Science and Technology Policy. In that role, he served as lead policy staffer on a patent reform effort that led to the signing of the
America Invents Act and also coordinated White House input into a report to Congress on the national strategy for innovation and
competitiveness. He has written and spoken widely on innovation, poverty, and evidence-based policy.
Spread the word! Bring a friend!
---

12th Annual Waltham Democratic City Committee BBQ & Picnic - August 10th
The 12th Annual Waltham Democratic City Committee BBQ & Picnic was held on Thursday, August 10, 2017, at Prospect Hill Park in Waltham. A large gathering of
Democrats from around the Waltham area enjoyed hamburgers, hotdogs, and veggie burgers expertly cooked by our Chairman and Chef Robert Logan.
Of course, there was plenty of political talk and lots of fun. This is always a great event so of you missed it this year, make sure to be there in 2018!
---
WDCC Endorses the We the People Act

At its March 16th meeting the Waltham Democratic City Committee voted to endorse the "We The People Act". The We The People Act is an attempt to overturn
Citizens United.Senator James Eldridge filed it as bill S.379 in the Senate and Representative Carmine Gentile filed an identical bill H.1926 in the House. Senator Michael Barrett,
and Representatives John Lawn and Thomas Stanley have all signed on as sponsors. Make sure to thank them for their support, and urge them to advocate strongly for passage of this important legislation.
---
Waltham Democrats Elect Delegates to State Convention

Waltham Democrats held their caucus to elect delegates to the 2017 State Democratic Convention on Saturday, March 4th, 2017 at the Northeast Elementary School.
The 2017 Massachusetts Democratic Platform Convention will be held at the DCU Center in Worcester on June 3, 2017, where Democrats from across Massachusetts will gather to adopt a new Party Platform.
---
Waltham Area Democrats Kick Off The New Year at Annual Post Holiday Gathering

Waltham Area Democrats escaped the cold, sipped some coffee, enjoyed some treats and, of course, talked politics at the Annual Post Holiday Gathering.
This annual event was originally organized by Karen O'Donnell, who ran it for many years. Local Democrats continue this event annually in Karen's memory.
---
Good Time at 10th Annual Waltham Democratic City Committee BBQ & Picnic

The Annual Waltham Democratic City Committee held its 10th Annual BBQ & Picnic on August 13, 2015, at Prospect Hill Park, Waltham.
WDCC Chairman Robert Logan worked the grill as members and guests enjoyed hamburgers, hot dogs, and veggie burgers.
Once again the weather was beautiful, the conversation was lively, and everyone had a great time.
---
Joshua Ostroff Addresses Waltham Dems on Transportation Crisis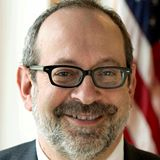 Joshua Ostroff, Outreach Director for Transportation for Massachusetts (T4MA) was the guest speaker at our March meeting, and spoke to Waltham Democrats about the recent troubles with the MBTA
and the need to invest in public transportation. Josh is a Natick Selectman, a past president of the Massachusetts Municipal Association (MMA), and a strong proponent of transportation and public engagement.
Josh also serves as the Massachusetts Outreach Director for Transportation for America, a national alliance to support state and federal funding of transportation investment to secure economic prosperity.
---
Follow The Waltham Democratic City Committee
on Twitter & Facebook


---
---
---
---
---
---

---


---
Disclaimer
To help defray costs, the Waltham Democratic City Committee is a member of a free web-hosting site. The advertisements found on this page have been posted by our web-host Tripod. The Waltham Democratic City Committee does not endorse the products that are advertised on this page.
---